Morgan Memories – Home Milk Delivery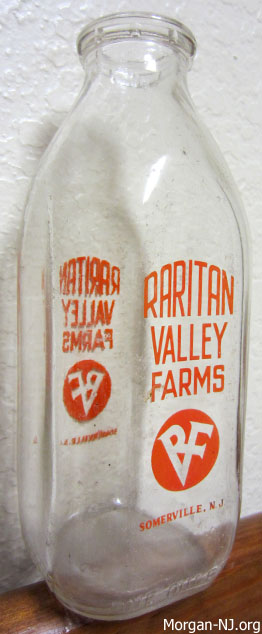 I see nostalgic postings on Facebook about the days when bread, ice, coal, milk and even rags were delivered to people's homes during the second and third quarters of the 20th century.  His name was Bob Casey and, no, he isn't my father or the father of any of the kids in our Morgan neighborhood – at least our part of the neighborhood!  Mr. Casey was our milk man who delivered bottled milk from Raritan Valley Farms located in somewhat near by Somerville, NJ.  While I don't recall which days or how many days a week Mr. Casey would drive up the street with the goods, I do recall the glass bottles with the distinctive red circular Raritan Valley Farms logo and paper cap which would be placed in our silver Raritan Valley Farms door step milk box we kept on our porch.
Mr. Casey's truck was the classic milk truck (white in color I recall with a green painted front grill) which he would let us ride in for a little way down the street.  The ice was hand sized, crystal clear, and he would give us a chunk of it in the summer to lick.  The melted water was virtually ice cold as it flowed down your hand.  Guess if it was ice cold, it wouldn't flow down your hand!  His bottle carrier was, if memory serves me right, a pretty solid aluminum frame with a wooden handle, which would hold six or eight quart bottles.
One day there was a Jesse Selover School class trip to Raritan Valley Farms, I think it was during Mrs. Patrick's 1st grade class.  I can't recall much about the trip save for two things.  The first one was telling my close friend Eric (who lived down the street and was born the day after me) during the trip that the cows in the barn "sure were stinky".  The other memory was after we got back to Selover. I opened the camera I took with me (guess I had the interest even then) to look at the film to see the photos – but they weren't there!!!
Mr. Casey was a very friendly man who we were all very fond of.  I think there was usually a cigar near by or between his teeth though usually not lit.  He was always great with the neighborhood kids.
Sadly we had to dispose of what was left of the Raritan Valley Farms milk box the summer when we moved my Mom out of Morgan after 50 years of living there as it was in terrible shape.  After a long search, I did manage to buy one of the bottles from childhood which is pictured here.
First posted on October 22, 2009.