Morgan Moments – Reenactment of the Hanging of Abe Mussey at the Old Spye Inn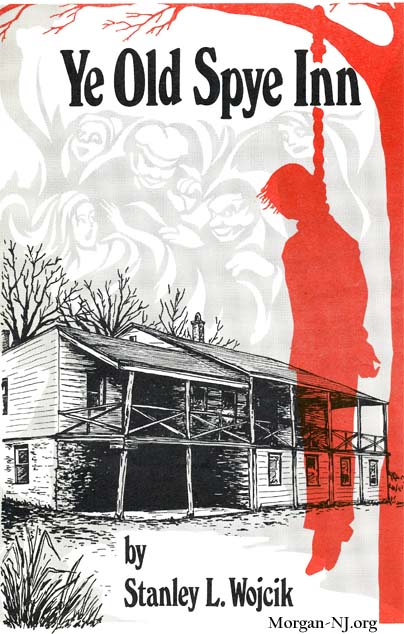 Every so often something prompts me to finally create the page on one of the many unwritten topics still on my list of Morgan topics.  Typically it is because someone posts something on Facebook either in "You know you grew up in Morgan if:", "The Historical Society of South Amboy", "You Know You're from Sayreville", "Sayreville Memories", or the "Sayreville Historical Society" groups.  In this case, it was something written by Steven Bloodgood, who I believe used to live across the street from me, on the "You know you grew up in Morgan if:" group.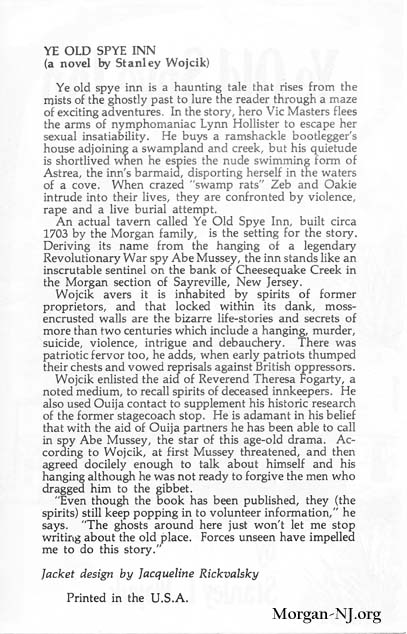 In January 2014, Steven posted that he was looking for a copy of Stanley L. Wojcik's "Ye Old Spye Inn" book (a copy of which is every once in a while available on eBay) or the play bill from the August 15, 1976 reenactment of "The Hanging at Ye Old Spye Inn."  I do happen to have both. Fortunately for both of us, Dee Dee, who also used to live in Morgan (down the street from Steven and me), volunteered to loan Steven her book.  My contribution is this page which has the content from the program.  Thanks for the prompting, Steven!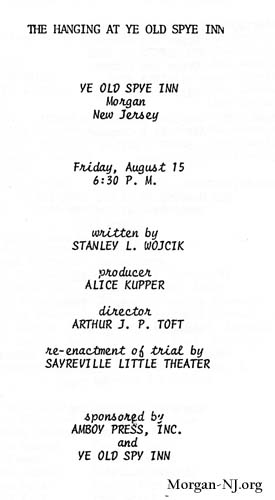 One of my big regrets from childhood was having a very nice 35 mm Single Lens Reflex camera but never having personally taken a photo of the Old Spye Inn!  Of course as a kid in those pre-digital days, every image taken cost money for both the film as well as for the developing.  Remember when taking 36 photos was a lot?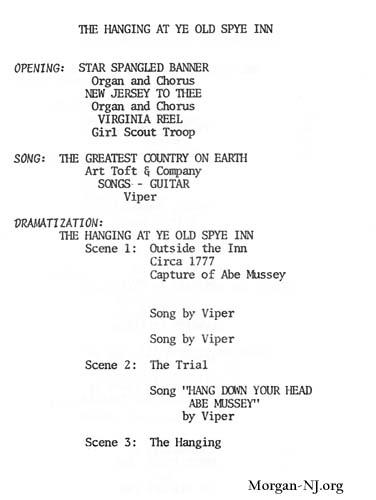 As for the reenactment, I don't remember actually going to it yet someone in my family obviously did, most likely my brother, Doug.  While the reenactment occurred during the bicentennial year when many things relating to the founding of the country were highlighted, it appears to me that this reenactment was actually Stanley Wojcik coming up with a way to peddle his book.  As I look at the names of those people listed in the program, I see some names which look familiar to me – primarily those people making up the "Jury" who were many of the Sayreville politicians of the day.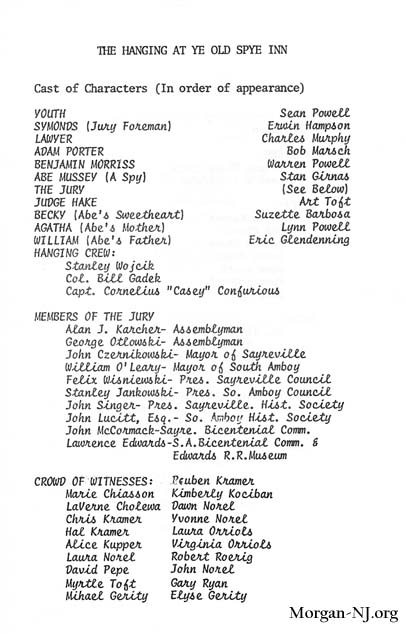 No doubt the song "Hang Down Your Head Abe Mussey" mentioned in the program would have been based on the old North Carolina folk song "Hang Down Your Head Tom Dooley" made popular by the 1958 recording by the Kingston Trio.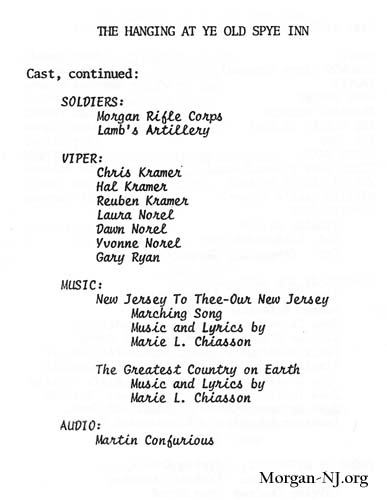 Marie Chiasson used to have a music store on Route 35 North off of 10th Street and right across the street from the last surviving building from the T. A. Gillespie Loading Company.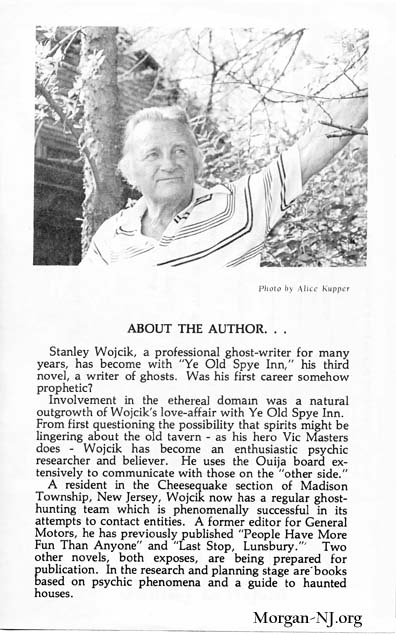 One of the things which I was also told is that this event was recorded by some television station perhaps from the eastern Pennsylvania area or maybe Trenton area.  It is my hope that perhaps this write-up will inspire someone in the Morgan area to make it their cause to go find that station and get the reenactment onto something like YouTube so everyone can enjoy it all these nearly 40 years later and into the future.  I've heard tell that my one time Morgan neighbor, Bob, quite likely would have been recorded in this video making a comment about the quality of the hanging.  I'd prefer to not give any additional details on that.  If you know or knew Bob, you would understand what he would have said…