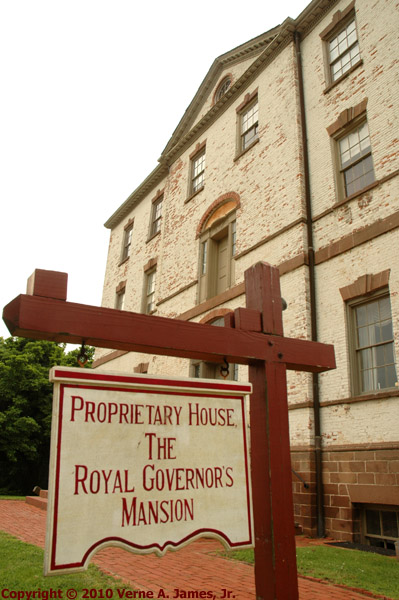 The summer of 1776 was a dramatic time period in the areas around Morgan, NJ.  In addition to the Battle of Long Island, which occurred on the other side of RaritanBay, two other events of significant historical relevance and some less historically significant skirmishes or events occurred during the time periods surrounding the arrival of British forces on Staten Island.
The first significant event occurred two and a half miles, as the sea gull flies, from the location that eventually became my childhood home in Morgan. At the Perth Amboy residence of the Royal Governor of New Jersey – now known as Proprietary House (subject of a future Morgan-NJ.org posting), William Franklin, the illegitimate son of Benjamin Franklin, became the last Royal Governor of New Jersey when he was arrested and removed on June 19 by the Council of Safety of the Continental Congress.  Those of us that went to RutgersUniversity owe some gratitude to Governor Franklin as he was the person that signed the 10 November 1766 charter for QueensCollege and subsequently supported it.  QueensCollege was renamed to RutgersCollege in 1825.
The Continental Army's Commander-in-Chief General George Washington learned of the second event, the July 4 signing of the Declaration of Independence by the Continental Congress in Philadelphia, a few days after it was signed. He had it read aloud to his troops in New York City on the evening of July 9.
The other events and skirmishes in the area during this time frame I have thus been able to find mention of are:
Originally posted on September 5, 2010.