Morgan Memories – September 1777 Payroll for the 2nd Battalion of Middlesex County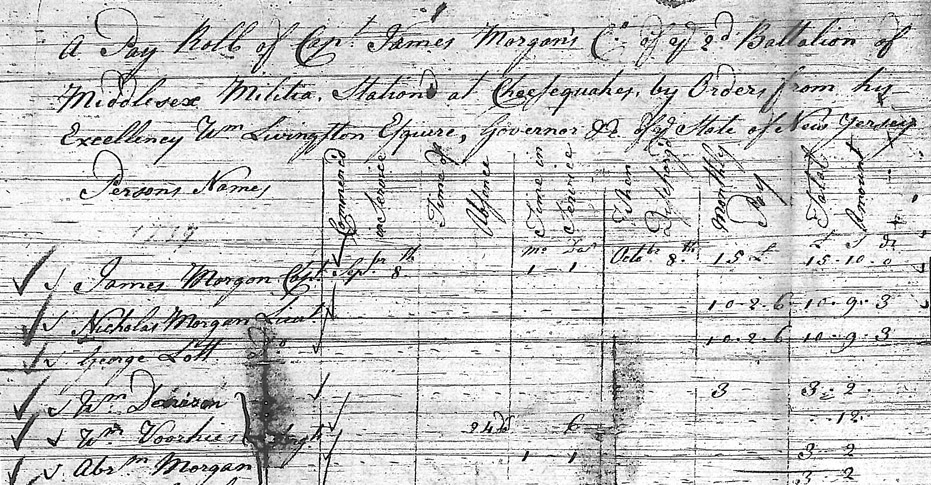 A copy of the two page September 8 to October 8, 1777 pay roll record for Captain James Morgan's Company of the 2nd Regiment of Middlesex County, New Jersey was found in the New Jersey State Archives. The pay roll, dated March 5, 1778 and entirely hand written, listed Captain James Morgan, Sr. as well as 52 other members of his battalion including Morgan's son Lieutenant Nicholas Morgan and, while it isn't clear what the relation is, Sargent Abraham Morgan.  Other early Morgan, NJ surnames are also contained in the pay roll such as Brown, Burlew, Disbrow, Letts, Vorhees, and Warner.
Hand written at the top of this first pay roll page is the following:
"A Pay Roll of Capt. James Morgan's Co. of ye 2d Battalion of Middlesex Militia Station'd at Cheesequakes, by Order from his Excellency Wm. Livingston Esquire, Governor &c of ye State of New Jersey."
The names of the 53 individuals follow and are contained in a pre-Microsoft Excel table showing:
Persons Name
Commenc'd in Service
Time of Absence
Time in Service
When Discharg'd
Monthly Pay
Total Amount
You'll notice that this time period predated dollars and still used the British monetary convention of Pounds, Shillings, and Pence.  There were twenty shillings per pound and twelve pence per shilling.  The rate of pay varied depending on rank.  Capt Morgan was the highest paid at 15 pounds per month.  Lieutenants were next highest at 10 pounds, 2 shillings and 6 pence per month (shown as 10 . 2 . 6).  Sergeants appear to have been paid 3 pounds per month.  Corporals 2 . 15 and Privates 2 . 10.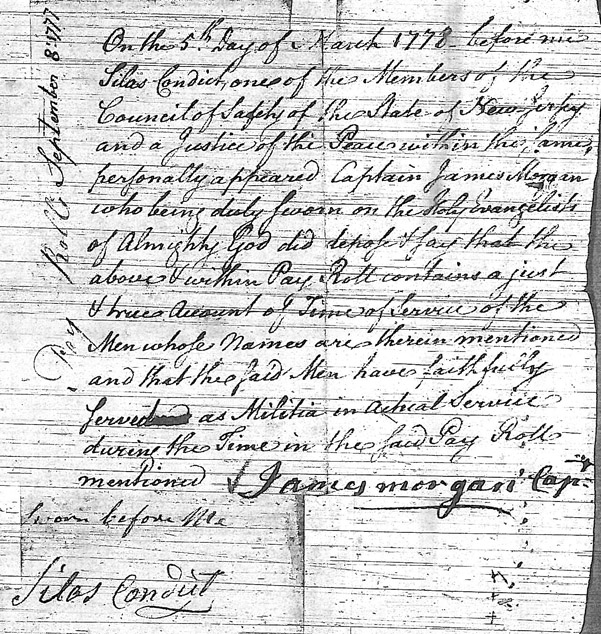 The bottom part of the second page, after the table containing the men's names, contains verbiage which might have been called the testimonial section.  This section was signed by one of the members of the "Council of Safety" as well as by Captain Morgan.  It turns out that the militia was paid by the Council of Safety (A different page about this subject has been in the works for a long time – hopefully it will be complete one day).  Below is my best guess at what the testimonial section says.  Some of the words are hard to make out.  It's hard enough to read my own handwriting, reading quill scratching requires another type of talent and ability.  When I wasn't sure of a word, I followed it by a question mark in parentheses.  If you are able to determine what the actual words really are, please make note of it in the Comments section at the end of this posting and I'll update the posting to incorporate the corrections.
Pay Roll September 8 1777
On the 5th day of March 1778 before me
Silas Condict, one of the Members of the
Council of Safety of the State of New Jersey
and a Justice of the Peace within the same,
personally appeared Captain James Morgan
who being duly sworn on the Holy Evangelists
of Almighty God did depose(?) today(?) that the
above written Pay Roll contains a just
& true(?) Account of Time of Service of the
Men whose Names are therein mentioned
and that the said Men have faithfully
Served as Militia in actual Service
during this Time in the said Pay Roll
mentioned.
Sworn before Me
Silas Condict
While it is fantastic to be able to see the pay roll, what is more exciting is being able to view a copy of an original signature of Captain James Morgan!
First posted on April 2, 2011.