Morgan Manuscript – Randall Gabrielan's "Explosion at Morgan" Book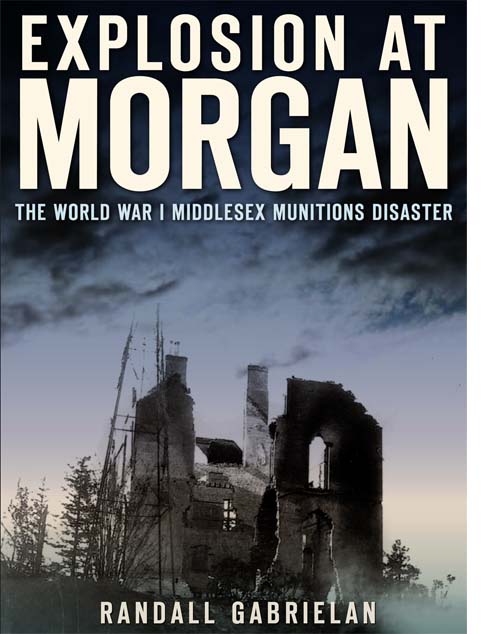 In October 1918, the Morgan based T. A. Gillespie Loading Company, one of, if not the largest shell loading plants in the world, was destroyed by a series of explosions and fires.  This web site has provided a glimmer of information about the expansive nearly forgotten plant but not yet the full picture.  One of the contributors to this web site has been Randy Gabrielan, Monmouth County's Historian.  In addition to something like fifty books already written and published, Randy has written and published the most expansive printed work thus far on the subject of the Gillespie explosion.  Congratulations on another work well done to Randy!
Illustrated to the left here is the cover of the book showing the ruined remains of Morgan's Bayview Manor mansion (See to-be-reposted write-up) which on the morning of October 5, 1918 burned down after being hit by an artillery shell projected by one of the many out of control plant explosions.
On the back cover are text and two iconic photos associated with the Morgan explosion. The main photo shows a number of refugees on some probably never to be identified dirt road trying to escape the disaster. The second image shows a World War I uniformed soldier patrolling past the blown out windows and destroyed frontage of Bash's Specialty Shop in Perth Amboy.
The two text sections read:
While World War I raged in Europe, America scrambled to supply the Allies with ammunition, and several munitions plants were constructed near the Jersey Shore.  The hastily built plants hummed with hardly a mishap until the fateful night of October 4, 1918, when a series of explosions killed one hundred people.  Firemen and other volunteers were powerless to stop the destruction as it devastated the Morgan-South Amboy area and terrified the surrounding region.  Strangely, though, this woeful disaster has been forgotten by history. Local historian Randall Gabrielan re-creates this terrifying night and its aftermath in the context of Middlesex County's role in the Great War.

"There was one great blast after another as we ran… loaded and half-loaded shells, which were thrown into the air, exploded.  Glass came down like rain, and pieces of steel from the shells and chunks of concrete would come down in a shower after each explosion."
The book is now available! Should you be interested in finding out how to order a copy, you can contact Randy at: MonmouthHistory@Comcast.net
Originally posted on October 4, 2012, 94 years to the day when the explosions started.