Morgan Memories – Steam Train Passing Through Morgan in 1954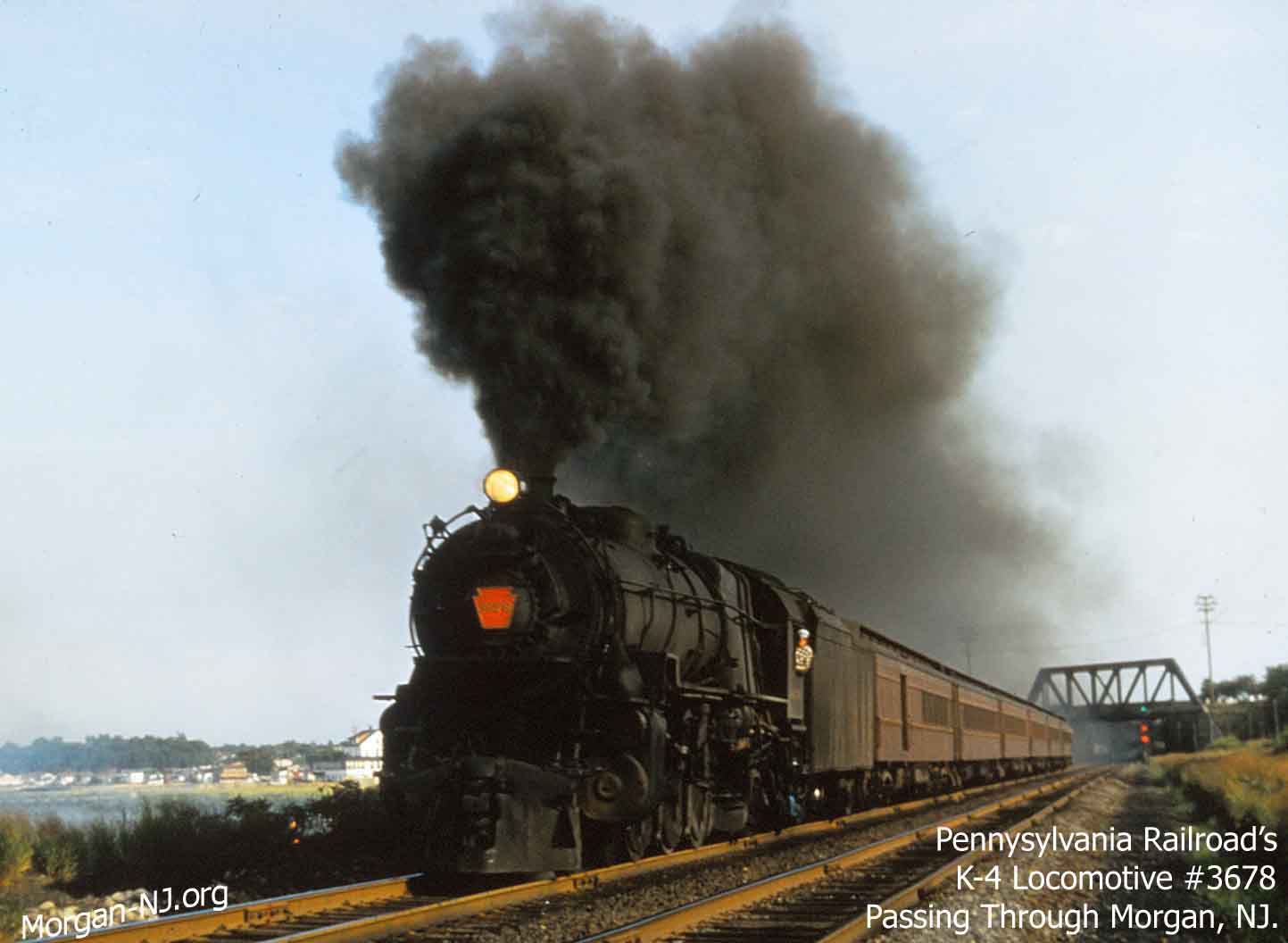 The last regularly scheduled steam train passed through Morgan in late 1957 (before my time).  With the exception of the Blue Comet Nostalgia Train, which ran the rails from Raritan Bay to Bay Head in December 1975 and was covered on NBC's Today Show with Tom Snyder, no steam locomotives have since traveled the tracks through Morgan (that I am aware of).
This photo is dated August 18, 1954 and shows a steam train heading north through Morgan on its way toward South Amboy.  Seeing, hearing and feeling the steam locomotives passing through Morgan must have been quite an amazing thing.  It went on for about 80 years.  People living during most of those years probably couldn't fathom the diesel or electric locomotives which came later.
Here are some interesting things to note about this photo:
The photo is looking southeast toward Laurence Harbor.
The train just passed under the Route 35 Pratt truss bridge.

The angle of the sun means this is a late afternoon / early evening train.

The Engineer is readily visible in the train cab window.

Just to the left in front of the locomotive, you can see the back of the Robert E. Lee Inn and, just left of that, some of the long gone bungalows on Morgan Beach.
The locomotive in the picture is #3678 which was a 4-6-2 "Pacific" K4 locomotive – one of a fleet of 425 owned by the Pennsylvania Railroad (PRR).  It was built in 1918 at the Baldwin Juniata Locomotive Shop in Altoona, PA.
Here is a link to a beautiful and clear black & white photo of PRR K4 locomotive #3678.

This locomotive is longer than any of the individual track segments it is riding on (83 1/2 feet vs. 78 feet).

The combined weight of the locomotive and coal tender jointly weigh nearly half a million pounds, approximately half the weight of a Boeing 747.

Only two of the 425 locomotives built remain in existence today.  Number 3750 is in Strasburg, PA on static display at the Railroad Museum of Pennsylvania (along with the John Bull replica to be mentioned in an upcoming to-be-posted page).
After its retirement in May 1956 and subsequent restoration, number 1361 was placed on static display for nearly 30 years at the famous Horseshoe Curve near Altoona, PA.  For a while, 1361 was subsequently being restored at Steamtown in Scranton, PA.  There were reports that 1361 was in pieces and was to be moved to the newly opened Railroaders Memorial Museum in Altoona, PA.  According to this museum's web site, it appears to be true and should soon be taking place (sometime during 2013).  Hopefully it will soon culminate with a restored and working K4 steam locomotive.
There are a number of great photos of #1361 on the RRPictureArchives.net web site including a great photo contributed by Mr. James RaRue of #1361 in Bayhead, NJ.  You know what that means?  If locomotive #1361 was in Bayhead, then locomotive #1361 went through Morgan, NJ!
More information on the PRR K4s can be found here.
Below are some YouTube video links showing K4s in action.  In viewing them, you should be able to get a feel for the sounds of a K4 train steaming through Morgan, NJ:
Below are some YouTube video links showing two of the seven segments of NBC's Today Show with Tom Snyder featuring the Blue Comet Nostalgia Train.  These were originally broadcast on December 25, 1975:
Originally posted on October 11, 2009.